On December 2, the band and song orchestra Katten Skogmans Orkester releases their new album "III" (pronounced: Den tredje). It took 17 years for all the songs to finally see the light of day and for the entire album to reach its final form. They describe the album as "The World Championship in Eclecticism."
The lyrics are personal, comical, sad, naughty, serious, unserious – yes, the album deserves a podium place in the Eclecticism World Championship. The band describes their sound as symphonic folk-pop, where some songs are more folk and less symphony, and others are more symphony and less folk.
The lyrics and music are created by Björn Ende and Henrik Hurtigh. Björn also plays keyboards, and together with Henrik Hurtigh, who is also the band's guitarist, they contribute most of the vocals. The groovy and steady bass is handled by David "Katten" Skogman, Fredrik Carlzon controls all the brass in the songs and also has the technical knowledge as the producer. Alexandra "One-take-Alex" Eklöf plays beautiful violin. The quick-witted but low-key Martin "The Dark Lord" Welander plays drums on the first nine songs, and then the more energetic rocker and legend Richard Klemmé took the baton and took his place behind the drum set. The album also features Clara Hansen, who sings opera, and the comedian and improviser Erik Broström, who got hold of a ukulele and a cool wail in honor of the album.
"Filip and Hila are fantastic. Exactly what we need. Precise doers with enormous knowledge and a positive mindset that makes everything feel possible. Thank you!"
– Björn Ende
Credits
Artist: Katten Skogmans Orkester
Lyrics & Music: Björn Andersson & Henrik Hurtigh
Programming: Fredrik Carlzon
Production & Mixing: Fredrik Carlzon, Per Ängkvist
Mastering: Filip Killander
Artwork: Erik Broström
Video: Filip Killander and Bea Andrés
Release Date: 2021-12-02
Editor: Hila Stefansson
Publisher:
KMR Studios
Musicians
Vocals: Björn Andersson and Henrik Hurtigh
Backing Vocals: David Skogman, Alexandra Eklöf, Fredrik Carlzon, Clara Hansen, Richard Klemmé, and Erik Broström
Instruments: Henrik Hurtigh, Björn Andersson, Alexandra Eklöf, Fredrik Carlzon, David Skogman, Richard Klemmé, Martin Welander, Erik Broström, and Jonas Lindberg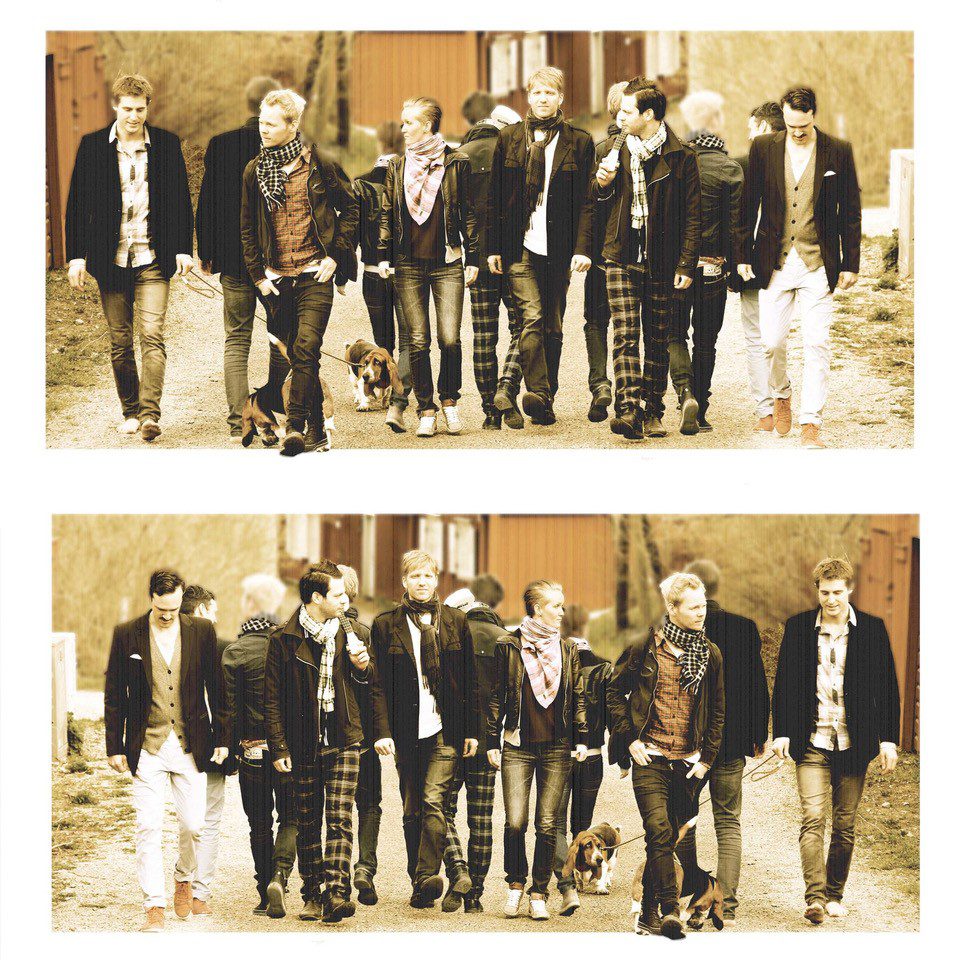 Katten Skogmans Orkester, as they call themselves, is a song orchestra that combines virtuosity, lightheartedness, depth, and catchy melodies with a touch of bipolarity and joy. The description of their music is as long as it is hard to comprehend – Katten Skogmans Orkester must be experienced to be understood.
Read more about Katten Skogmans Orkester
Discover more artists!
Through these links you can discover our artists and find information about their release. Through the contact link you can find more information about how you can reach out to us.
Artists
Get in touch