What is EQ?
Before we talk about the Vintage EQ Collection in Logic Pro X, it's good to know what EQ is. An EQ or equalizer is a tool used in various audio-related contexts, such as recording and mixing music or live concerts. An EQ allows the user to boost or cut specific frequency ranges, thus highlighting or attenuating aspects of a sound.
Vintage EQ Collection in Logic Pro X
As standard in Logic Pro X, there is a collection of plugins called the Vintage EQ Collection. These plugins consist of three different types of EQs, and as the name suggests, they are based on older analog hardware units. This brief guide will describe these plugins and their characteristics, as well as provide examples of common use cases.
Vintage Console EQ
This plugin emulates the EQ section of the famous Neve 1073, designed by Rupert Neve in 1970. The design features a three-band EQ with adjustable low and mid bands, while the high band is fixed at 12 kHz. In addition to these three bands, there is also a low cut/highpass filter. This EQ is known for its warm character with prominent mid-range and smooth high frequencies. The Neve 1073 is considered a very versatile EQ and works well on most instruments.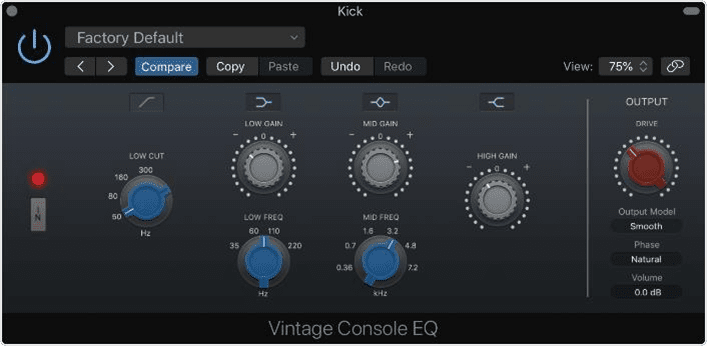 Vintage Graphic EQ
This plugin emulates the graphic EQ API 560, introduced in 1969. The design consists of ten bands with the ability to cut or boost ±12 dB at each band. This EQ uses a technology called Proportional Q, which means that the filter's bandwidth narrows gradually as more dB are cut or boosted. EQs from API are known for their characteristic punch, making them suitable for instruments like drums and guitars, as well as vocals.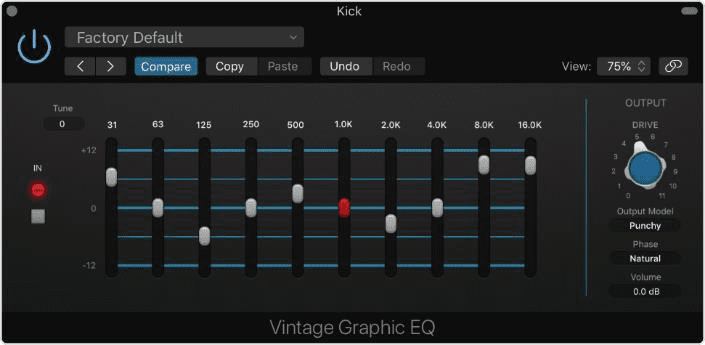 Vintage Tube EQ
This plugin emulates two tube EQs from the manufacturer Pultec: EQP-1A and MEQ-5. These EQs were introduced in the 1950s and are often paired together because they complement each other well. The EQP-1A has filters for low and high frequencies, while the MEQ-5 can filter the midrange. Together, these EQs have the ability to add richness to low frequencies and provide a smooth character to mid and high frequencies. They are often used on the master bus but also on individual instruments like drums and bass.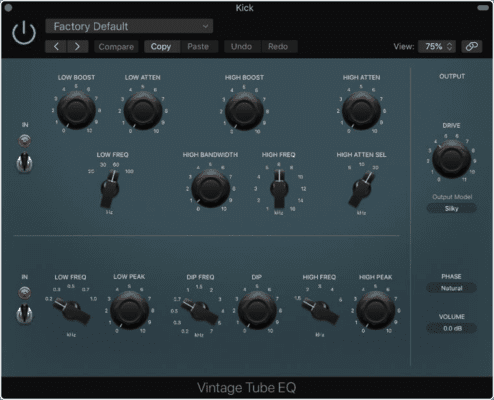 Drive Control
All three of these EQs feature a Drive Control. This function is designed to recreate the gain/saturation produced by the original hardware units. By adjusting the drive knob, you can determine the amount of gain/saturation added. It's worth noting that this function works even if no other changes have been made to the EQ, so it can be used as a tool in mixing on its own.
We hope this guide was helpful in choosing an EQ from the Vintage EQ Collection in Logic Pro X. If you have any further questions, please don't hesitate to contact us! You can also read more about compressors in Logic Pro X.
Guides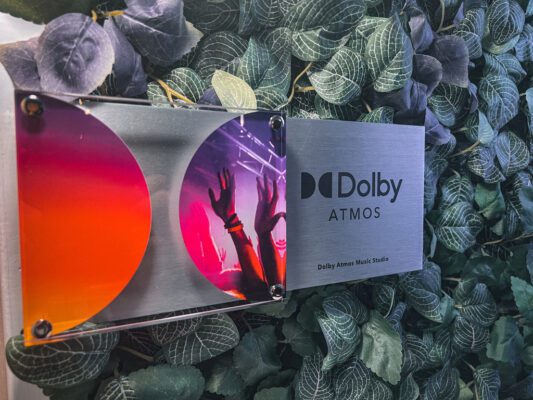 In this article we will take a deep dive into what the certificate is and [...]
Contact Us
Portfolio
Listen on your preferred streaming plattform