Why Dolby Atmos?
The existence and increasing accessibility of Dolby Atmos may seem exciting to those interested in technology, but why would you want to have your song mixed for the Dolby Atmos format yourself?
Think of it as another part of the creative process. Just as in a stereo mix, where you can choose whether you want the tambourine to be heard on the left, right, or centered, with the Atmos format, you can choose to have the tambourine positioned diagonally behind you, above you, or beneath the chair you're sitting on, thanks to the enhanced 3D spatial sensation in the sound. The format creates entirely new dimensions in music and gives you the freedom to create an immersive story with your song.
There's also the marketing aspect: Streaming services like Apple Music and Tidal have recently started supporting Dolby Atmos and are now on the lookout for good music mixed in the format. The chances of getting your music featured on a "Dolby Atmos playlist" are significantly higher because the competition is much smaller. A wise piece of advice for any artist looking to expand their audience is to ensure their music is available in this new format. It's only a matter of time before Spotify begins supporting the format, and then the demand is expected to rise exponentially in Sweden.
How Can Artists Benefit from Dolby Atmos?
Imagine wanting to have a song featuring an entire orchestra. In a traditional mix, you can certainly create separation between the different sections and achieve a sense of width in the music. However, imagine being able to create the feeling of standing in the middle of the orchestra as a listener. That you yourself are part of the violinists with all the other musicians around you, in a realistic 3D space. Consider the possibilities this opens up for the sound design in your song!
With the increased freedom in the sound image, you can convey the emotions associated with your work in a whole different way. As mentioned in our previous article "What is Dolby Atmos?", you don't need anything more than a regular pair of headphones to appreciate this expanded sense of space, even though the format is designed with larger speaker systems in mind. If you then listen to your music on a fully equipped Atmos system, all the information is there to reproduce your music through all the speakers, for the ultimate listening experience.
Step into the Future
With the help of Dolby, we have designed and calibrated our premium room, Studio A. The room is now one of the few certified rooms in Sweden. All the speakers are from Genelec, and the remaining equipment maintains the same international quality level.
We offer services in the Atmos format for music, film, TV, and games. Learn more on our website or book a meeting with us to discuss how we can assist you.
Work in Dolby Atmos
Post-production
More about Dolby Atmos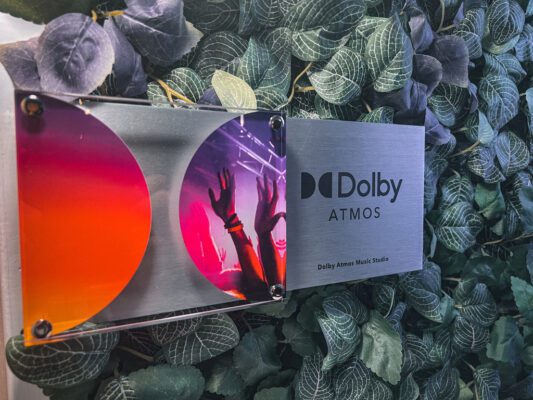 In this article we will take a deep dive into what the certificate is and [...]
Contact Us
Portfolio
Listen on your preferred streaming plattform