Dolby Atmos made its debut as a sound format in the film industry and is now also a relevant format in the music industry, to say the least. Within spatial audio systems, there is currently no real challenger; Dolby Atmos dominates. This is a direct result of Dolby's incredible care and precision in everything they do. To ensure high sound quality is always achieved, Dolby has developed a certification system to distinguish studios that meet the company's standards from those that do not. Studios that meet the standards can thereby become "Dolby Atmos Certified." In this article, we will take a closer look at what this certification entails and why it is relevant for everyone working with Dolby Atmos.
What is a Dolby Atmos Certificate?
A Dolby Atmos certificate provides customers and artists with the knowledge that the certified studio works according to and meets Dolby's specific requirements for technical equipment, studio design, acoustic treatment, and speaker/room calibration. Besides the certificate, it is (of course) a prerequisite that the technicians in the studio have extensive experience and comprehensive knowledge of how Dolby Atmos works. Without a deep understanding of how the format actually functions, the room and technology matter less. It is the combination that allows you to achieve high-quality results.
It is worth mentioning that Dolby issues more than one type of Dolby Atmos certificate. Below is a summary of the certificates and a simplified explanation of what they mean:

Technical Requirements
Among the technical requirements are everything from detailed calibration to studio design.
Room
Minimum height: 2.4m
Minimum width: 3m
Minimum length: 3.5m
Recommended height: 3m
Recommended width: 5.5m
Recommended length: 6.4m
It is worth mentioning that these are the sizes required for certification, not for working in the format at all. We encourage all technicians to test working in Atmos, even if it is "only" with headphones. The difference is still overwhelmingly positive. If you want to work professionally with Dolby Atmos, you can still work with your headphones at home if you do the final mix in a certified room or if you leave the mix to a Dolby Atmos-certified studio that can master the Atmos mix for you.
Equipment
The number of speakers for sound reproduction should be at least twelve (7.1.4) for a studio to apply for certification. Additionally, there are requirements for acoustic treatment, which is a fundamental prerequisite for all types of music production at a professional level. When you think about how important acoustics are in stereo, you can understand how directly crucial they are in a system with 12 speakers… Reflections, echoes, and delays are all aspects that will determine how the sound is perceived.
View the specification in detail at Dolby.
Calibration
Finally, one of the most important requirements is that the audio system is calibrated to reduce and prevent issues with delay, phase errors, and volume imbalances. This cannot replace the above-mentioned points about equipment and acoustic treatment; even in a perfectly treated room, precise measurements and calibrations are necessary. The calibration must be performed by a Dolby Atmos-trained technician, typically an employee of Dolby or one of their certified business partners like msonic.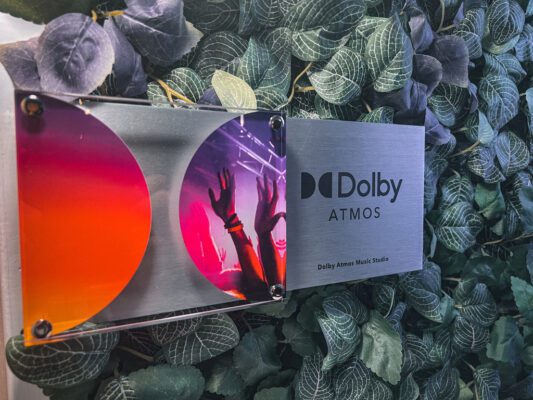 How to Become Dolby Atmos Certified
The paths to certification may vary, but in this article, we will provide an overview of KMR Studios' journey to becoming certified:
We spent about 1 year educating ourselves about everything related to Dolby Atmos; the format, requirements, use cases, technology, equipment, basically everything we could find to gain a comprehensive understanding of what Dolby Atmos actually is.
We contacted Dolby and informed them of our plans to upgrade to Dolby Atmos in connection with our move to a studio that meets their requirements.
Dolby then connected us with their Nordic partner, msonic, and we had a meeting where we discussed our ambitions, thoughts, prerequisites, and even the floor plan of the new space. With their help, we compiled a list of the equipment required to meet their standards. msonic also assisted with the purchases, which was very helpful. Having "everything in one place" is convenient, safe, and professional.
We did the acoustic treatment ourselves in consultation with msonic. When we were moved in and ready, the new speakers arrived, which we set up ourselves. However, we sought help from msonic for the software installation, which was definitely not something you could google.
Once everything was set up and calibrated, msonic spent approximately a full day in the studio calibrating the speakers, and the difference before/after was difficult to overstate. It was as if we had replaced the speakers (again).
After all this was done, the final measurements of the room were taken, and the result had to be within a certain margin of the optimal curve specified by Dolby.
If everything is approved, all information about the room and measurements is sent to Dolby, who reviews and gives the final approval.
We then filled out a form, which shortly after resulted in our studio being featured on Dolby's page for certified studios.
To begin your own journey, you can directly contact Dolby for advice and assistance with the process. You can also contact us at KMR if you have any questions or concerns. It is entirely possible to perform the studio design and installation yourself, but if you truly want to ensure it is done correctly and meets Dolby's standards, it is wise to hire experts.
Why Should You Get Certified?
Dolby Atmos Certification is a quality stamp that shows the studio and mixers meet the requirements that Dolby deems necessary to achieve a professional result. Today, Dolby Atmos is becoming more and more developed and widespread among studios. The technology and tools for Atmos continue to evolve rapidly, with new things happening every week. Therefore, it is of great importance that artists and clients can easily discern whether the studio they are considering working with meets the requirements set for the format. Anyone can start using Dolby Atmos, but not everyone can become Dolby Atmos certified. As the development is moving at a rapid pace, there is plenty of misleading information and ignorance about Atmos circulating on the internet. This is one of the reasons why we at KMR dedicate so much time to writing educational articles about Dolby Atmos so that artists have the opportunity to educate themselves on the subject.
Why should a studio become certified?
Regardless of whether you care about the certificate or not, you still need to meet the requirements to work professionally. If you do not meet them, you will not be able to hear what you are doing, and it will harm the end result. And if you do meet the requirements for the certificate, why not invest the extra time and get certified?
Why should artists/clients care about the certificate?
As an artist/client, you want to give your music the best conditions.
As an indie artist, you can really stand out by mixing your music in Atmos. You can increase the chances of getting placements on playlists and even interviews with reviewers. Of course, this depends on the mix sounding professional, in a facility that does not meet the certificate's requirements, there may be issues that you cannot hear and that will then harm the end result.
As an artist with a major label, the above is true for you as well. But here, there are also specifications from your label on how the Dolby Atmos master file should be delivered. If this is done by a technician who does not have a deep understanding of the format, there is a high chance that the mix will be sent back with a "try again." An impression you'd rather avoid making.
Dolby Atmos Services
Read More Articles About Dolby Atmos
View All Dolby Atmos Articles
Portfolio
Listen on your preferred streaming plattform