Part 2 – Listening to Dolby Atmos
In Atmos in Logic Pro – Part 1, we talked about how to set up an Atmos project in Logic Pro to start testing the format. In Part 2, we'll talk more about Dolby Atmos in speakers but also how to set up Atmos as a system-wide audio format on your computer. Explore all articles about Dolby Atmos!
Configuring speakers
To play music in Atmos from your Mac, you need to set up the right configuration. Here's how to do it:
Open Sound/Midi settings → Select your sound card → Click on "Configure speakers" → Configuration: 7.1.4 Atmos Surround.
Once you are here, you need to put the right output, from the sound card, to the right speaker. If you are unsure, you can use the "test" button to get a test sound from the output on the sound card. Then just listen to see if it gets to the right speakers!
When using software to prevent phase errors and adjust frequency reproduction (such as Sonarworks), you need to set the program as your sound card, not the physical sound card.
Atmos on Apple Music
Desktop
When listening to Dolby Atmos on Apple Music, two things need to be done first:
Subscribe to Apple Music
Dolby Atmos needs to be activated
To enable Dolby Atmos in the Apple Music app, open the app's settings and check "Always on" or "Automatic" in the "Dolby Atmos" box. This will cause Apple Music to select the Atmos file whenever possible. With "automatic", the program will detect if your speakers/headphones are compatible with Atmos and adjust accordingly. We recommend leaving the setting automatic, as there are sometimes problems with always on. But test what you think works best. You can tell when Atmos is activated by the small symbol to the right of the song title.
Depending on the configuration of your computer and speakers, it will likely take some tweaking to get Apple Music to work perfectly with your system. We recommend using a program like Loopback. It allows you to redirect system sounds to where you want them to play. This is a topic we won't get into in this article. If you want to listen to Dolby Atmos on AirPods, Apple Music automatically arranges for you to get the Spatial Audio version of the song.
When you're listening on your phone, you don't need to set any settings; the app detects when you're listening on headphones or in a sound system that supports Atmos. If the app does not want to play the music in Atmos in your headphones, you can try activating "always on".
Having trouble with playback?
It's hard to say exactly what might be the problem when setting up this system, but here are some quick tips to help when you can't get sound:
Switch the audio devices back and forth (see the audio list in the menu bar).
Turn off and open the Apple Music app
If your sound card's sample rate has recently changed (e.g. from 48khz to 44.1), see if you can switch back to 48khz. One way to do this is to start a Logic project in 48khz.
See how the output is configured on your audio device (see the "Audio/Midi Settings" app). If you have more than 16 outputs on your audio device, the Apple Music app will not send Atmos audio. Try changing it to 12 or 14 instead and then restart the Apple Music app.
Restart your computer
Restart your sound card
TIP! Use Dolby's Apple Music "Functional Testing" playlist when setting up and testing!
Further reading on Dolby Atmos
At KMR we have Atmos services in production, mixing and mastering. If you either want to have your music produced in Atmos, have questions or want to have your music mixed and mastered in the format, just contact us!
This was Part 2 of the "Atmos in Logic Pro" series. Now that we have gone through the first parts, you can start playing around in Dolby Atmos and create cool sound environments!
Articles about Dolby Atmos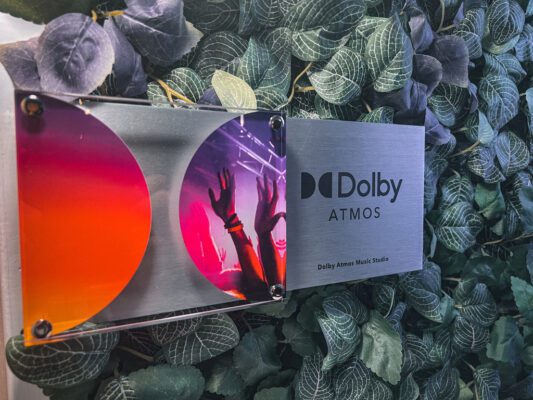 In this article we will take a deep dive into what the certificate is and [...]
See all Guides
Portfolio
Listen on your preferred streaming plattform