Background
Perhaps you have heard of Dolby Atmos when going to the cinema or shopping for a new speaker system? The technology was introduced in 2012 during the premiere of the movie Brave and has since become available in more and more theaters. In recent years, the format has also become increasingly common in consumer-grade audio setups that are accessible for regular people to purchase. Today, most new TVs support the format, and streaming services like Netflix and HBO produce movies and series in Atmos.
Read more about KMR's Dolby Atmos services
What is Dolby Atmos?
To provide a simple explanation of what the audio format entails, let's consider the formats that existed before Dolby Atmos:
Mono: When sound is played from a single source
Stereo: When sound is played from two sources (left and right)
Surround (5.1): 3 speakers in front of you and 2 speakers behind, along with a subwoofer for extra bass. This allows sound to be played so that it appears to come from behind or in front of the listener (as well as left and right).
Dolby Atmos takes the next step and introduces height. Such a system also includes speakers in the ceiling, allowing sound to move all around and even above the listener.
To make a comparison, one could simplify and say that if mono is 1D (a point) and stereo is 2D (a line), then Dolby Atmos is 3D (a room). The possibilities with this format are endless, which excited many of us when Apple announced in the fall of 2021 that their streaming platform, Apple Music, now supports the format (without any extra cost for listeners).
The significant difference between Dolby Atmos and all other formats is that the sound is no longer perceived as coming from the speakers. It sounds like the sound is coming from the room you are in, which changes the entire experience – whether it's music, movies, or games. You are no longer just listening to a recording; you are present in the place where it was recorded.
Who has Access to Dolby Atmos?
"But," you might think, "I don't have a room full of speakers designed for an Atmos system. This probably isn't relevant to me, right?"
A significant advantage of the Atmos format is that the content adapts to the audio system playing it. This means you don't need a dedicated room where you have installed a Dolby Atmos system with 12 speakers (in a so-called 7.1.4 configuration) to enjoy a movie or album that uses the format. The new advanced format "senses" which audio system is playing the sound and adjusts accordingly.
Constant technological advancements are making Dolby Atmos technology more accessible. Today, you don't even need speakers to listen to music or watch movies in the format; a pair of headphones is enough! This is possible thanks to a technique called binaural audio. There is currently nothing that can precisely replicate what a 7.1.4 system can do, but the format undoubtedly makes a difference even with a pair of headphones. So, for those who want to listen to music in Dolby Atmos, all you need are a good pair of headphones and a membership to platforms like Apple Music or Tidal.
At KMR Studios, we have high hopes for Dolby Atmos in the future and offer you as a customer the opportunity to have your music mixed and mastered in what we believe is the audio format of the future! We are also one of the few studios in the world that offer production directly in Atmos. We do that in our Dolby-certified Studio A.
We also offer services in post-production for TV, gaming, and film creators.
Read more about services in Dolby Atmos
More about Dolby Atmos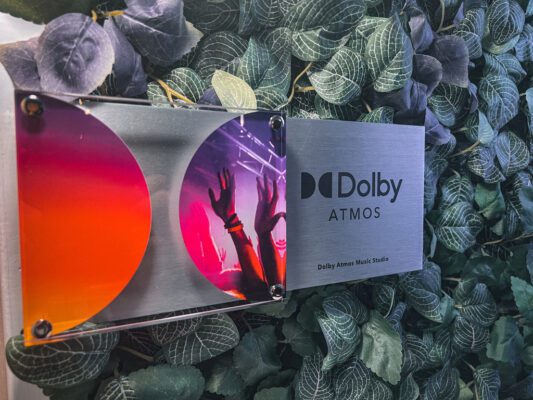 In this article we will take a deep dive into what the certificate is and [...]
Contact Us
Portfolio
Listen on your preferred streaming plattform